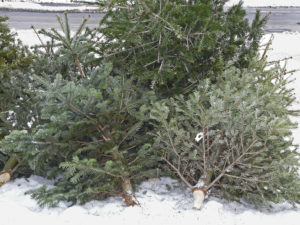 Once the holiday season is over, we're always left with piles of debris: boxes and wrapping paper, leftovers from a holiday feast, and all of those decorations that were exciting at the beginning of the month, but now just look like too much junk.
However, even with all of that extra holiday clutter, the most difficult thing to deal with is your old Christmas tree. For those of us who still go natural with our yule decor, it can be hard to get rid of an oversized tree. What are your options for disposal, and how can you make the process as painless as possible?
Get Rid of Your Tree in a Timely Fashion
There are a couple good reasons not to wait too long to dispose of your tree. The first reason is safety. Your risk of fire goes up exponentially every day, as your tree dries out. The first few weeks after a tree has been cut, the wood and needles are still full of life and moisture. But later, they dry out and start to resemble a pile of tinder which can easily be ignited by the heat from the electric lights wrapping the branches.
The other reason to get rid of your tree before the end of January is that the weeks immediately following Christmas have the best opportunities for Christmas tree disposal in every community.
Preparing Your Tree
In order to dispose of your tree, you need to strip it down to only organic compounds. Few places will receive Christmas trees for disposal if they still have tinsel or decorations on them. You must also remove the tree from its base and remove any nails that you used in order to set up the tree. And remember, flocked trees cannot be recycled.
Recycling for Sustainable Living
The number of trees that go into landfills in the area is unnecessary. It's easy to recycle trees instead and use them in ways that will benefit the community. Only about 7% of the trees that we buy each year are recycled. This year, you can participate in the recycling initiatives that are happening in the greater Las Vegas area. Just look up your address on Spings Preserve's site to find your nearest recycling station. These trees are turned into mulch and used to build and garden in public parks around the area.
If you're not able to find a suitable place to recycle, or you don't have the tools to take your tree to a recycling hub yourself, try these resources for Christmas tree disposal:
Look in at your closest Lowe's store, which has expanded its tree disposal and recycling capabilities to most of their locations in the last few years.
Call 1-800-GOT-JUNK to hire someone to pick up your tree for $30.
Call or check out the website for your city and/or county. Most cities have a designated tree pickup day after the holidays for curbside disposal.