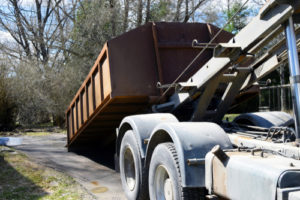 As part of the comprehensive dumpster rental service that we provide, we offer roll-off dumpsters to all of our clients. As you may know, when it comes to renting a dumpster, there is no "one size fits all" approach—they come in a variety of shapes and sizes, and no dumpster is the perfect fit for every project. This is one of the reasons why we provide a variety of different types and sizes of dumpsters, including high-quality roll-off dumpsters. Read more below about roll-off dumpsters and their uses so you can determine whether or not it would be a good fit for your waste removal needs.
What Is a Roll-Off Dumpster?
The main difference between roll-off dumpsters and other types of dumpsters is how they are loaded, transported, and unloaded. At the base of a roll-off dumpster, there is a track that allows it to slide onto and off of specialized roll-off trucks with quickness and ease. Like all of our dumpsters, they are available in a variety of sizes so they can better suit our customers' needs. Most of them are open-top dumpsters, which means they are not covered, so we cover them before transporting them. Some of them have a front or rear wall that opens, allowing for easier waste disposal.
Everything You Need to Know About Roll-Off Dumpsters
Some people wonder why there are so many different kinds of dumpsters. After all, all they do is hold garbage, right? While there is truth to that statement, there are still different needs that are better filled by different kinds of dumpsters. Here are some things you should know about roll-off dumpsters before you rent one:
They are typically used for construction and demolition waste, but they can be used for almost any waste removal needs (our list of prohibited items still applies).

The wheels are typically made of metal, which can scratch or damage the surface the dumpster is resting on. To prevent this from happening, it is recommended that plywood or another material is placed underneath where the dumpster will be placed.

Due to their nature, roll-off dumpsters can be loaded and unloaded to and from our trucks quickly. They can also be placed in more precise locations.
Get a Roll-Off Dumpster Today
At Western Elite, we have years of experience helping Nevada residents with all of their waste removal needs. If you are in need of a trusted company to help you get rid of your garbage, look no further. Call us today and we will help you determine which kind and size of dumpster will be perfect for your needs.