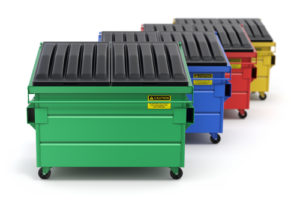 Today, it is more important to reduce, reuse, and recycle than ever before and Western Elite is there to help this happen. We provide high-quality recycling dumpsters.  Our notable cleanliness, customer service, and dumpster rental process help people throughout the Las Vegas area have an excellent, convenient option for situations that require large amounts of recycling.
4-Hour Delivery
When you order one of our recycling dumpsters, we guarantee that we will deliver it anywhere in the Las Vegas area within 4 hours. We understand that time is valuable for our customers, and some projects can require a tight deadline. That's why we ensure a timely drop-off and pickup service!
Recyclable & Non-Recyclable Items
Many people are confused by what exactly can and can't be recycled at a material recovery facility. It is important to keep recyclable items and non-recyclable items separate. Here is a list of items that you SHOULD put into our recycling dumpsters:
Corrugated cardboard

Steel 

Copper

Pallets 
There are many items that you shouldn't put into our recycling dumpsters. Sometimes, certain items are contaminated enough that they make it so that the entire load cannot be recycled. To help clarify any misunderstandings, here are items that you SHOULD NOT put into our recycling dumpsters:
Hazardous waste materials

Glass items (including bottles and jars)

Food waste

Bathroom tissues

Used paper towels

Wet items

Landscaping materials

Car parts

Clothes

Batteries

Light bulbs

Paint buckets

Tires

Ceiling & floor tiles
*One thing to note is that any recyclable option that held food or beverage should be washed out before being recycled.
Check Out Our Recycling Dumpster Products
If you are curious about renting out our recycling dumpsters or want more information about our services, please check out our recycling service page below. Alternatively, please feel free to give us a call if you have any more questions!