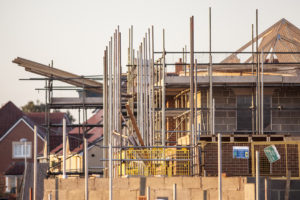 When it comes to a residential or commercial project, keeping your work site clean not only keeps things running more smoothly; it also makes your work site look more professional overall. Here are some ways that you can better keep your project site clean.
Hire a professional cleaning team.
Did you know that you can outsource construction cleanup services, allowing your work site to be known for the quality of construction and not for its clutter? You can hire professionals to clean up trash and debris associated with slab construction, framing, plumbing, and electrical work; remove waste associated with lathing, stucco, and drywall work; edge and sweep units before drywall and painting; power wash surfaces before and after major projects; and so much more. A truly professional work site cleaning team will be able to come up with a custom solution to fit your work site's needs.
Rent a clean dumpster.
It is surprising how much of a difference the look of your dumpster can make at your worksite. Dumpsters have a reputation for being filthy, smelly, and covered with graffiti; but they do not have to be. When renting a dumpster for your work site, work with a company that will deliver a clean, well managed dumpster to your site. We at Western Elite, for example, always guarantee that the dumpster we deliver will be clean and graffiti-free, refurbishing our dumpsters and removing cosmetic defects beforehand as necessary. We also offer a variety of front-load and roll-off dumpster sizes so that you can be sure that you'll have a container that is large enough to handle all of the waste generated at your work site.
Look for high quality service.
The service offered by the waste management company you work with can make a significant difference. Look for a company that is going to provide unparalleled service. When picking up waste from your front-load dumpster, for example, is the driver going to clean up any incidental debris? Is your dumpster guaranteed to be delivered within a matter of hours? Will waste pickup occur at on-time at regular, scheduled times? Does the company you're working with have a mission to improve recycling efforts in your area? Be sure to ask these questions and to look for a company you can truly get behind when it comes to your waste management needs.