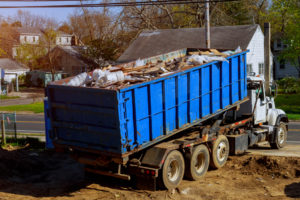 The waste removal specialists here at Henderson's locally owned and operated Western Elite waste management, proudly offer all of our clients a wide range of roll-off containers and dumpsters in a variety of sizes. At Western Elite we hope to serve a community that has employed us for years—and we believe that a community like ours can be instrumental in transforming our ecological landscape.
Community First
In the same way that we've relied on you to allow us to be a staple of Henderson's waste removal community, and a leader in transformative landscaping support, we'd like to assure our customers that they can rely on us to be there right when you need us, to tackle any of your projects' demands. With our 4-hour guaranteed delivery, you can trust us to deliver your dumpster within a narrow enough window for you to work at your pace, and still know that you can receive a dumpster right when your schedule allows.
Leading the (Recyclable) Pack
At Western Elite, we know that our clients have a variety of dumpster rental needs, and we'd like nothing more than to encourage your consistent recycling. Whether you're working on clearing debris from a construction site—or operate a large building complex producing plenty of potential recyclables—we want to provide Henderson's community with a quality and reliable service, and the very best in recycling dumpsters. 
Talk to Our Specialists
If you're a project manager in Henderson, our expertly serviced roll-off containers are an essential tool for all of your projects. No one understands how much of a difference reliable garbage disposal and recycling dumpster rentals can improve your business better than Western Elite's professionals. You know that a project site inundated with refuse and debris—-or a building complex with inefficient waste removal schedules—hinders your business' goals. If you need support in clearing out your project site, we can complete a swift dumpster drop-off, so that you and your employees can get on with your work. At Western Elite, we want project managers to manage their job-sites—not their expectations: our waste removal specialists promise to exceed them.
Reuse, Repurpose, and Reliable
Western Elite's professionals understand that the environment is as important to you as it is to them—and that our shared responsibility for Henderson's environment extends beyond even the best recycling practices. When your projects call for it, we'll make sure that you're not making multiple trips to the landfill to clear your debris.
Contact Us Today
(702) 550-0190
We want the rest of your project to run smoothly, of course—but, here at Western Elite, we also want our elite customer service, our swift drop-off times, and our energy-efficient transportation to provide you with all of the tools you and your business will need to succeed. Contact us today for a quote, or to take to us about what you might need for your next recycling project.