Western Elite has been a trusted Las Vegas garbage disposal partner for years. We are proud to be the only garbage disposal and dumpster rental company in Las Vegas with a 4-hour guarantee, and with 99.5% on-time delivery, we make sure all the highest standards are met. Western Elite is locally owned and dedicated to servicing the residents of Las Vegas.
Garbage Disposal Done Right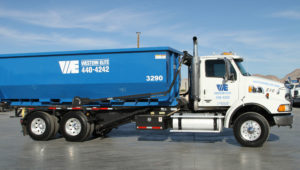 We want to take your garbage off your hands. Turn to Western Elite when undertaking any of the following projects:
Moving 

Home renovation

Construction

Demolition 

Concrete paving 

Home or yard cleanup

Large events or gatherings
Once your garbage has been collected, we will make sure it is properly disposed of. We are experts in both garbage disposal and waste recycling and will sort the recyclables out of your waste in efforts to prevent unnecessary dumping. The remaining garbage will be transported from our facilities to the landfill. We pride ourselves on helping keep the city of Las Vegas clean and tidy one dumpster load at a time.
Have a Garbage Need? Western Elite is the Solution.
We want to help you with your next Las Vegas garbage disposal project. Whatever it is, you will want a trusted partner to clear your clutter. Western Elite has been servicing the residents of Las Vegas for years. Contact us today for more information.