When the heat is on in Las Vegas, the city that never sleeps—with lights blazing, fountains pumping, fireworks bursting, and a strip overflowing with both citizens and tourists—we at Western Elite know that you've come to rely on an efficient company to meet your waste management needs. No matter the time of day, Western Elite is ready for your call.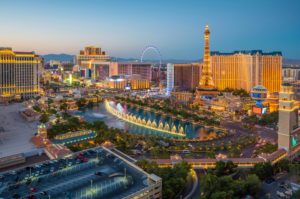 Where There's a Will, There's The Western Elite Way
To meet the demands of a flourishing city, Western Elite offers timely dumpster rentals throughout the Las Vegas area—and we can guarantee that all of our clients are subject to the best in customer service experiences. Complete satisfaction and total support is the Western Elite way. 
We're Here For You
All of us here at Western Elite are highly motivated to provide more than good service; to us, we believe in nothing less than elite. In the same way that you can count on Las Vegas to provide its citizens and visitors with the finest in world-class entertainment and accommodation, Western Elite believes in offering the finest of services in the dumpster rental business. No matter what your specific requirements, you can count on Western Elite to take care of everything from delivery and placement, to pick-up and disposal—as reliably as a well-rehearsed production on any of the city's most renowned stages.
Meeting Your Needs
Employ our dumpster rentals to meet a wide range of your waste removal needs, ranging from collections and dispersals of everyday refuse, construction site waste, green waste, and any manner of solid waste. As a citizen of a city that consistently provides the best, we further believe that the best in service is made up of several key ingredients: at Western Elite, we value your time, your personal safety is paramount, and we respect your hard-earned cash. 
Life in the Reliably Fast Lane
In Las Vegas' fast-paced environment, it's critical that we keep pace; and we at Western Elite proudly believe that we aren't just running the race—we're winning it. Cross over your projects' finish lines with a Western Elite dumpster rental.
Contact Us Today
Renovating your Las Vegas home and getting rid of excessive debris is a chore when going it alone—Western Elite is here to help you make your life easier with same-day delivery, quick retrieval, and responsible disposal. Contact us today for a quote, and trust in our 4-Hour delivery window. When you need us, we'll be there, to take the load off of your shoulders and off to the landfill.