Las Vegas Dumpster Rental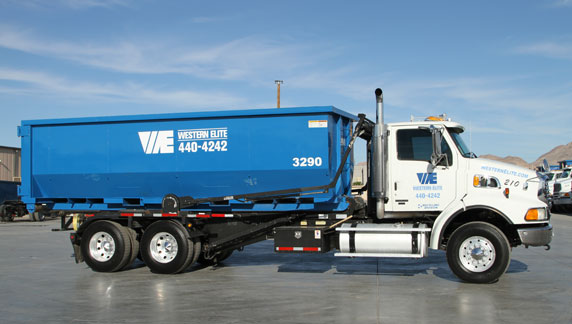 Las Vegas Dumpster Rental
When you're living in one of the most famous cities in the world, your life is always on the go. For residents and business owners in Las Vegas, that means a lot of new building and renovation projects. Each of those can generate literal tons of waste of all different kinds, from old wood and nails to sand, concrete, glass, and insulation. Western Elite is dedicated to helping to make Nevada the model state when it comes to waste disposal. That's why we offer a variety of different dumpster rental options for our friends in Las Vegas.
Proper Waste Disposal in Nevada
Our commitment to keeping Las Vegas clean is two-fold: first, we want to ensure that you have all the tools you need to keep your worksite clean and organized. That means no "one size fits all" solutions with us; we employ a fleet of trucks to haul any size load, with collection centers conveniently located. 
Our iconic blue dumpsters are fit for any job.
We offer 4 different sizes of dumpster, from Lowboys to 40-yard receptacles.

We can accommodate extremely heavy waste, like concrete, tile, and dirt.

Our dumpsters are perfect for everything from demolition debris to yard waste
The second way that we are committed to keeping Las Vegas clean is by recycling. It's not enough to just haul the trash away, not if you want to keep the environment clean. At Western Elite, we want to minimize the amount of trash that goes into the landfills each year, and so we have created the most robust recycling solution in the state of Nevada.
Every load of trash that we pick up is processed for recyclables; yes, every single load. We believe that true commitment means a 100% effort, and that shows in everything we do. And so we have recycled thousands of tons of materials since we started our business throughout Nevada. This is part of the reason why we are the most requested dumpster rental agency by construction professionals.
The Blue Dumpster Means Unparalleled Service
We are energized by the prospect of positively impacting our community. After all, we're a locally owned business, with houses next to yours. That's why whenever you see one of our blue dumpsters, you can expect the best in customer service. We guarantee every customer on-time delivery and pick-up — even for same-day jobs. We also promise equipment that is always in great condition and free of graffiti of any kind.
Ready to get started? Just click here to rent a dumpster. Pick your size and schedule, and let's get to work.