Henderson Dumpster Rental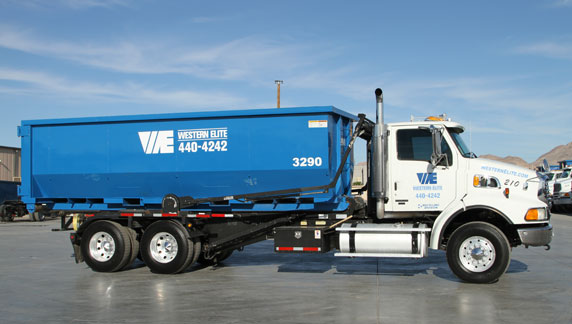 Henderson Dumpster Rental
If you have a big project to accomplish at the house, whether that is installing new shingles on the roof, reflooring the garage, renovating the kitchen, or even just preparing the home to sell, you might be surprised by how much trash gets accumulated before you're finished. At Western Elite, we want to make these projects easier than ever by providing the best service in dumpster rental available. 
As a locally owned and operated business, we have been servicing Henderson, Nevada for years, and love to assist our neighbors with their clean-up needs. We take great pride in being the business that our friends in the community rely on to keep their homes and neighborhoods looking beautiful. Among contractors, we are the top waste disposal service provider for contractors in Henderson.
Why Rent a Dumpster from Western Elite?
We are the most used dumpster rental service by professional contractors and builders.

We guarantee on-time delivery and removal.

Dumpster delivery on the same day you rent from us. 

We offer 4 sizes of dumpster, suitable for any job you have.

All of our receptacles are graffiti-free and well taken care of.
What Does Best-in-Class Service Look Like?
At Western Elite, we take our namesake seriously; our iconic blue dumpsters are a signal that we are providing the best possible service to our customers. But what does good service mean, when it comes to dumpster rental? To us, good service means flexibility and reliability. It's not just that we can fulfill a same-day order for waste disposal, we will deliver it within 4 hours. When we say we will deliver or remove your dumpster on time, our track record shows fulfillment at over 99%. 
Our customers in Henderson also expect variety within our services, which we are proud to offer. Western Elite's dumpsters are perfect for any type of job, be it commercial or residential, and we don't just handle trash. We are committed to protecting our environment as well and offer the best recycling services in the state of Nevada. 
Did you know that we sift through every piece of waste that we pick up, and remove recyclable items to be reused? When you hire Western Elite, you can be satisfied in knowing that your footprint on our landfills is smaller than with any other dumpster rental agency. 
Let's Get to Work, Henderson
Are you ready to rent a dumpster? Simply click here, choose which size dumpster will work for your job, and we'll take care of the rest. You have trash, we have solutions. Let's get to work.