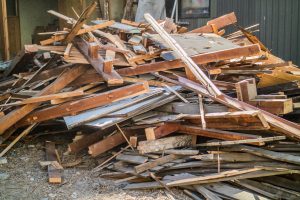 Construction and demolition (C&D) materials are one of the largest components of the solid waste stream in the United States, making up almost a third of waste disposal. Here is an overview of C&D materials, how they are recycled, and what benefits come with recycling them.
What are C&D materials?
C&D materials are those materials collected from construction and demolition sites. These sites may be residential buildings, commercial buildings, tenant improvement projects, remodels, site clearing projects, or roads. Many of these materials are similar to what you might collect from other sites—namely, corrugated cardboard (OCC) from packaging, glass, plastics (PVC, packaging, etc.), and yard wastes. Other C&D materials are more or less unique to the C&D waste stream, including wood, wallboard, carpet, paint, shingles, metals, masonry, and aggregate (concrete, asphalt, etc.). Wood and aggregate typically make up about half of the C&D material waste stream, while materials like drywall, roofing, and metal also make up significant portions.
Some C&D materials such as cardboard, glass, plastics, and metals are recyclable, while others like yard waste and lumber are not so easily recyclable. Even so, it's possible to recycle more C&D materials than you might think, including rigid plastics, concrete, rock, masonry, tile, porcelain, metals, lumber, carpet, and insulation. More than 325 million tons of recoverable C&D materials are generated in the United States each year.
How are C&D materials recycled?
Unlike common household recyclables that can largely be sorted mechanically with specialized machines, C&D materials must, for the most part, be sorted manually. This is because C&D materials are too large and too heavy to be sorted mechanically, so workers hand-sort these materials. We at Western Elite deal frequently with C&D materials, so we use an efficient sorting process that involves segregating and spreading materials and hand-picking recyclables out of the collected material. Once these recyclable materials are removed from the waste stream and sorted, they are distributed to the appropriate recyclers for further processing.
Benefits of recycling C&D materials
Recycling C&D materials has a variety of environmental benefits. First, it offers greater environmental protection and a smarter use of natural resources. Additionally, avoidance of landfill materials for disposing of waste makes for major energy savings and a significant decrease in greenhouse gas emissions. Recycling, as a whole, is also known to aid significantly in job creation.